33rd LIBRARY AND INFORMATION SERVICES MONTH
---
(This microsite will be updated from time to time. Kindly visit frequently to get more updates on the 2023 Library and Information Services Month celebration.)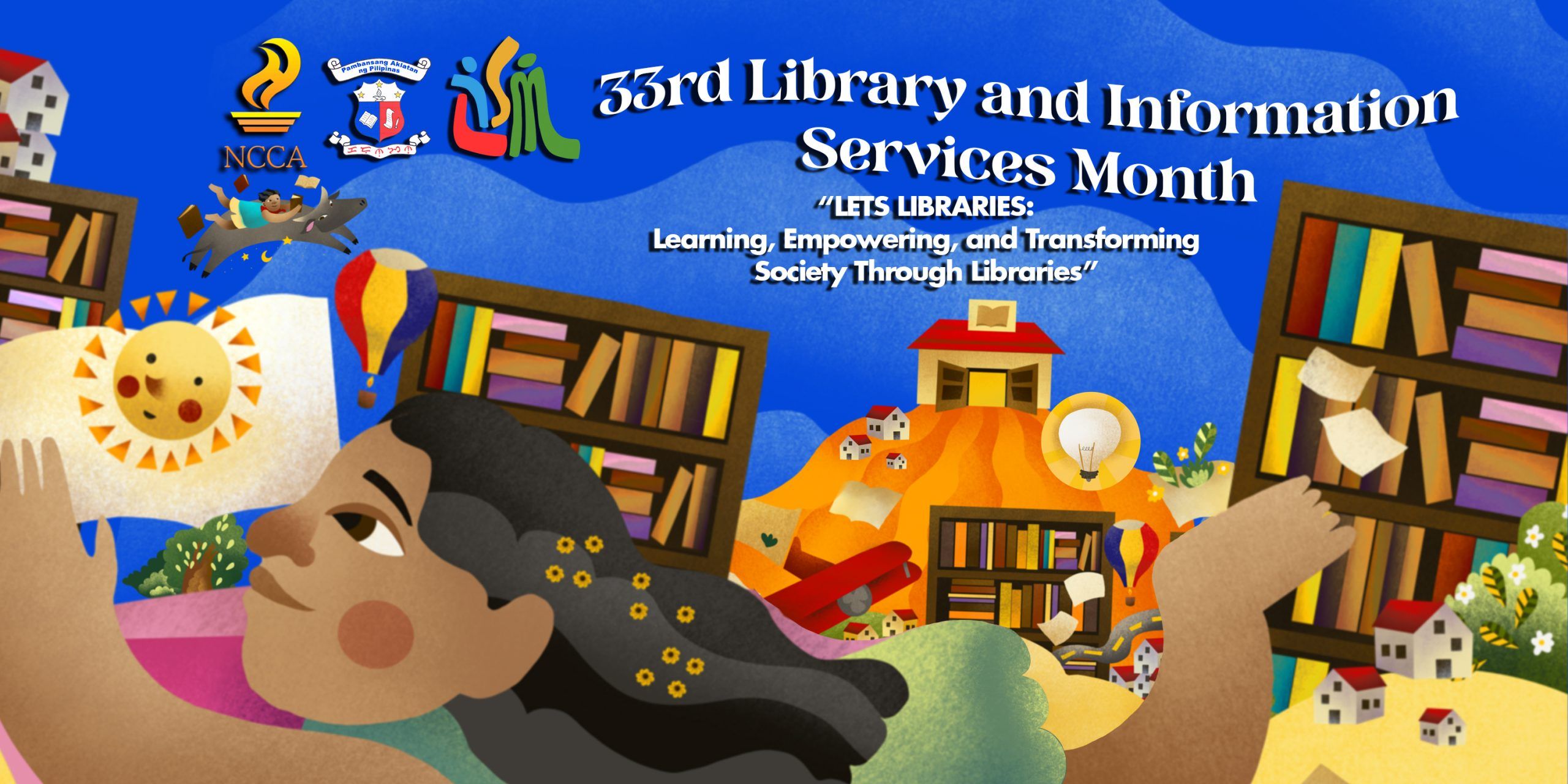 LIBRARY AND INFORMATION SERVICES (LIS) MONTH
Every November, the National Library of the Philippines and the National Committee on Library and Information Services of the National Commission for Culture and the Arts celebrate  Library and Information Services (LIS) Month through Proclamation No. 837 series of 1991, which declares the entire month of November as LIS Month.
The month-long activities, under the direction and auspices of the National Library of the Philippines (NLP) were designed to promote sustainability, which is becoming increasingly prevalent in libraries in terms of research and information dissemination, and also emphasize the continuing role of libraries and librarians in the evolution of technology.
In celebration of the 33rd Library and Information Services Month in November 2023, the Research and Publications Division with the LISM Working Committee is presenting the approved theme: "LETS Libraries: Learning, Empowering, and Transforming Society through Libraries."
The theme "LETS Libraries" embodies the core principles and transformative impact of libraries on individuals and society as a whole. It highlights the multifaceted role of libraries in promoting lifelong learning, empowering communities, and catalyzing positive change. As hubs of knowledge, libraries play an integral part in fostering personal growth, cultivating a love for reading, and acting as catalysts for social transformation.
Objectives
To promote the  role of libraries in promoting lifelong learning, empowering communities, and catalyzing positive change in the community;

To highlight the contribution of library in encouraging a culture of reading, nurturing a love for literature, and promoting the joy of discovery through books;

To empower libraries in transforming the minds and inspire individuals to become active citizens
Learning for Life: Libraries are a cornerstone of lifelong learning, providing access to diverse resources, educational programs, and opportunities for continuous personal development.
Empowering Communities: Libraries empower communities by offering resources, support, and spaces that promote inclusivity, equity, and social cohesion.
Thriving Through Reading: Libraries encourage a culture of reading, nurturing a love for literature, and promoting the joy of discovery through books and storytelling.
Sparking Imagination: Libraries inspire creativity and imagination through various activities, workshops, and interactive programs that ignite curiosity and innovation.
Leveraging Technology: Libraries leverage technology to enhance access to information, bridge the digital divide, and promote digital literacy among patrons.
Inclusive Spaces: Libraries serve as welcoming and inclusive spaces for people of all ages, backgrounds, and abilities, fostering a sense of belonging within the community.
Building Knowledge Networks: Libraries connect people, institutions, and ideas, creating a network of knowledge-sharing that enriches society as a whole.
Strengthening Social Fabric: Libraries contribute to the fabric of society by organizing community events, forums, and discussions that promote dialogue and understanding.
Advocating for Change: Libraries serve as advocates for positive social change, raising awareness about important issues and empowering individuals to take action.
Transforming Minds, Transforming Society: Libraries have the power to transform minds, inspiring individuals to become active citizens and driving positive transformation within society.
---
LINE-UP OF ACTIVITIES AND EVENTS
Flagship Activities and Events
VIRTUAL LAUNCHING AND PRESS CONFERENCE
18 September 2023 via Zoom, NLP FB Page & YouTube Channel
A brief discussion of this year's theme, presentation of the official poster and microsite, and explanation of various LISM activities and contests.
OPENING CEREMONIES
6 November 2023, NLP Auditorium, Facebook Page & YouTube Channel
A face-to-face event to formally kick off the celebration of LIS Month and promote the importance of libraries and librarians in relation to the theme.
LISM EXHIBIT
6-30 November 2023, Ground Floor Lobby, NLP Building
Showcases key events, people, places, and publications in librarianship to emphasize the importance of celebrating Library and Information Services Month.
LETS TALK!: DISCUSSION ON FINANCIAL LITERACY AND RECORDS MANAGEMENT
7 November 2023, NLP Auditorium & Facebook Page
A FREE seminar on financial literacy and records management that aims to foster the personal growth of librarians and the diverse communities that libraries serve.
LAKBAY KAALAMAN – OUTREACH PROGRAM
23-24 November 2023, Malay, Aklan
A visit to the Municipality of Malay, Aklan to conduct face-to-face seminar and children's activities.
BOOK LAUNCHING – IMPACT STORIES: LIBRARIANS EDITION
29 November 2023, NLP Auditorium, Facebook Page & YouTube Channel
Launching of a coffee-table book featuring the stories of 100 Filipino librarians, sharing best practices, as well as chronicles of both failures and successes in the field of librarianship.
CLOSING AND AWARDING CEREMONIES
29 November 2023, NLP Auditorium, Facebook page & YouTube Channel
Culmination of the 2023 LIS Month festivities and awarding of the winners of various contests held during the month-long celebration.
Library Feud
This is a fun game show for librarians, library staff and BLIS students. This game is about questions based on opinions or expectations that are asked in a survey before the show. The contestant must respond not with their own opinions and expectations but with guesses as to which answers were common or popular.
My Day in the Library
A Tiktok Contest where participants will submit videos that show how their day in the library went. Videos will be posted in NLP's Tiktok account, and entries with the most heart reactions will win.
Layb Testimony
This contest demonstrates how the library has benefited participants' lives. There have been times in their lives when it may be said that the library made a significant impact on them.
Guess How Many Books are in the Shelves
A picture of shelves of books will be posted in the NLP social media pages and in the Reading Room and participants will be asked to guess how many books are there in the picture. The one/s who will guess correctly (or the closest one) will win the prize.
Lucky NLP Patrons of the Day
Each NLP patron will be given a chance to draw a piece of paper from a box. Lucky users will be given special LISM merchandise based on what they were able to draw.
Pinoy Children's Book Character
Pinoy Children's Book Character aims to give Filipino families a chance to share a fun, healthy, and academically nourishing activity for the recycled art sculpture contest while also promoting excitement and a love of reading. It's a great approach to show everyone that reading is a worthy and engaging hobby. Our favorite characters from Filipino children's storybooks from the library is featured in this competition.
Eligibility, Mechanics, and Awards
Registration and Submission Bin
Would you like to join any of the contests? Simply access the registration and submission bin by clicking <HERE> or scanning the QR code, and fill out the online form to participate and submit your entries for the various LISM 2023 contests.
Line-Up of Activities and Events
---
DIGITAL PROMOTIONS
Teaser and Promotional Videos
LISM Logo Variations
LISM 2023 Poster
LISM 2023 Banner
LISM 2023 Photo Frame (Twibbonize your profile photo here!)
LISM 2023 Zoom Background
LISM 2023 Calendar of Activities
Countdown to LISM 2023 Closing and Awarding Ceremonies
Meet the LISM 2023 Committee Members
Honorary Officers

Honorary Chairperson

Cesar Gilbert Q. Adriano
Director IV

---

Honorary Vice-Chairperson

Maricel M. Ureña
Librarian V, RPD

Overall Officers

Overall Chairperson

Melanie A. Ramirez
Librarian IV, RPD

---

Overall Vice-Chairperson

Jonathan F. Santos
Librarian II, RPD

Secretariat

Chairperson

Flordeliza T. Quiñones
Librarian IV, RD

Vice-Chairperson

Maricris L. Abancia
ITO I, ITD

Members


Wilbur S. Calo
Librarian II, RD


Neriza D. Oraba
Librarian II, CDD


Marbilyn M. Egido
Librarian I, CD


Karla L. Lalica
Librarian I, FD

Operations: Exhibit

Chairperson

Maricel M. Diaz
Librarian IV, FD

Vice-Chairperson

Cherry V. Melquiades
Librarian III, FD

Members


Farrah Lyn S. Gocoyo
Librarian II, FD


Anlhet C. Buenaventura
Librarian I, FD


Venus M. Ibanez
Sr. History Researcher, FD


Eruel A. Olvina
Archivist I, FD

Operations: Children's Activities

Chairperson

Jose Tomasito N. Fernando
Librarian III, RD

Vice-Chairperson

Michael James R. Reyno
Librarian II, PLD

Members


Jeeffa U. Acmat
Librarian I, RD


Gio Karlo J. Fuellos
Librarian I, RD


Elesio R. Palermo, Jr.
Librarian I, RD


James Rommel A. Mabborang
Job Order

Operations: Outreach Program

Chairperson

Rhodora E. Valdez
Librarian IV, PLD

Members
Selected LISM 2023 Committee Members

Information & Documentation

Chairperson

Jennifer C. Echitan
History Researcher II, RPD

Vice-Chairperson

Joel P. Lascano
Librarian II, BSD

Members


Paul G. Dumagan
Admin Aide IV, RPD


Mark George DR. Acal
Admin Aide II, RPD

Logistics

Chairperson

Eleanor C. Siyang
Librarian III, RPD

Vice-Chairperson

Jean S. Ico
Librarian III, FD

Members


Gabrielle Josephine M. Napao
Librarian I, BSD


Jimmy L. Calig
Admin Assistant III, FAD


Marcopolo J. Casarigo
Admin Aide II, FAD


Luciano N. Pagaling
Admin Aide II, FD


Marisol P. Gatbonton
Job Order

Finance

Chairperson

Geraldine V. Guisando
Accountant III, FAD

Vice-Chairperson

Elmerson R. Alberto
Admin Officer V, FAD

Member

Marian Faith S. Sanchez
Job Order