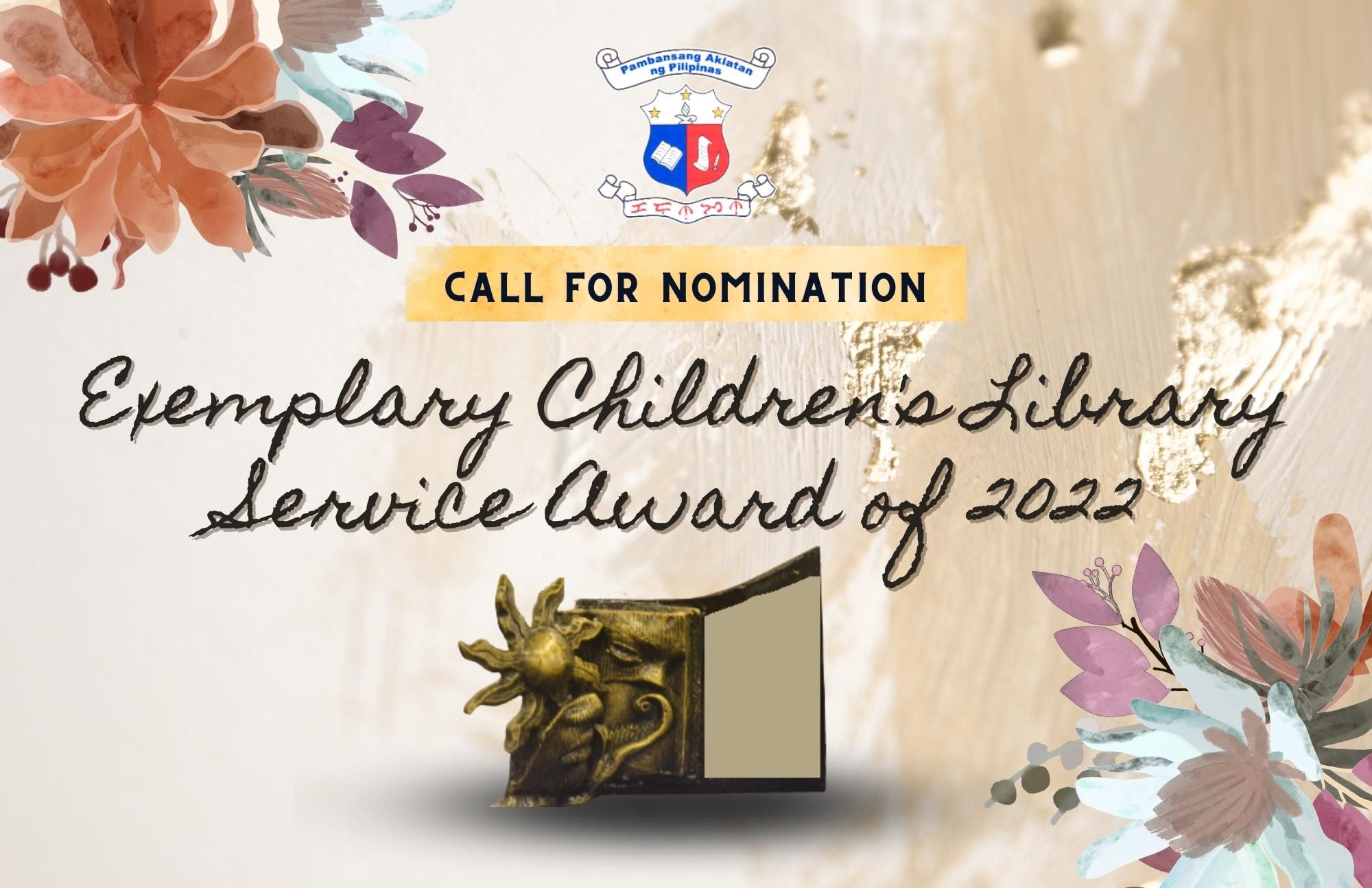 Call for Nomination: Exemplary Children's Library Service Award of 2022
July 15, 2022
The Exemplary Children's Library Service Award is given to honor a library that provides unparalleled services to children and young adults.
ELIGIBILITY
The contest is open to all libraries in the Philippines that provide exemplary services for children and young adults.
ENTRIES
A Library is allowed to submit one (1) entry only
The entry should be a library service that the library is currently offering to their customers
Photos, Videos, Concept Paper, Project Proposal, Customer feedback, Project accomplishment report, Social media write-ups, and other related documents about the entry (library service) should be emailed to ccyalarcommittee@gmail.com
Entry Form https://bit.ly/ECLARegistration shall be accomplished by the participants on or before September 15, 2022
The entry (library service) should have started 3 months ago from the posting of this competition, and should briefly discuss the positive impact it has made on the community it serves
Entries will be accepted between July 20 -September 15, 2022
Awardee shall be recognized and awarded during the closing ceremonies of the 2022 Conference on Children and Young Adults Librarianship on October 28, 2022
CRITERIA
*The decision of the panel of judges based on the following criteria is final and irrevocable.
Resilience 40%

Service that adapts well to any given community situation

Uniqueness 30%

Innovative service that is well-thought-out, remarkable, distinct, or unusual.

Customer-centricity 30%

Interactive service that shows customer engagement and value
TOTAL 100%
PRIZE
NLP Medal
Plaque of Appreciation
FOR INQUIRIES
Chona San Pedro-Galo
Chair, Awards & Recognition Committee
Conference on Children and Young Adults Librarianship (CCYAL)
National Library of the Philippines
523105035 local 133