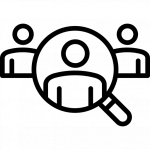 Bulletin of Vacant Positions as of September 19, 2022
September 19, 2022
No.
Position Title (Parenthetical Title, if applicable)
Plantilla Item No.
Salary/ Job/ Pay Grade
Monthly Salary
Qualification Standards
Place of Assignment
Education
Training
Experience
Eligibility
Competency (if applicable)
1
Librarian II
NL-NCCAC-LIB2-15-1998
15
₱35,097.00
Bachelor's Degree in Library Science or Library and Information Science or Bachelor of Science in Education / Arts Major in Library Science
4 hours of relevant training
1 year of relevant experience
R.A. 1080 (Librarian)
Core Competencies: 1.Exemplifying Integrity (Intermediate)
2.Delivering Service Excellence (Intermediate)Organizational Competencies:
1.Demonstrating Personal Effectiveness (Intermediate)
2.Communicating Effectively (Intermediate)
3.Planning, Organizing and Delivering (Intermediate)
Collection Development Division (CDD)
2
Librarian II
NL-NCCAC-LIB2-1-1998
15
₱35,097.00
Bachelor's Degree in Library Science or Library and Information Science or Bachelor of Science in Education / Arts Major in Library Science
4 hours of relevant training
1 year of relevant experience
R.A. 1080 (Librarian)
Core Competencies: 1.Exemplifying Integrity (Intermediate)
2.Delivering Service Excellence (Intermediate)Organizational Competencies:
1.Demonstrating Personal Effectiveness (Intermediate)
2.Communicating Effectively (Intermediate)
3.Planning, Organizing and Delivering (Intermediate)
Collection Development Division (CDD)
3
Librarian II
NL-NCCAC-LIB2-11-1998
15
₱35,097.00
Bachelor's Degree in Library Science or Library and Information Science or Bachelor of Science in Education / Arts Major in Library Science
4 hours of relevant training
1 year of relevant experience
R.A. 1080 (Librarian)
Core Competencies: 1.Exemplifying Integrity (Intermediate)
2.Delivering Service Excellence (Intermediate)Organizational Competencies:
1.Demonstrating Personal Effectiveness (Intermediate)
2.Communicating Effectively (Intermediate)
3.Planning, Organizing and Delivering (Intermediate)
Reference Division (RD)
4
Librarian II
NL-NCCAC-LIB2-13-1998
15
₱35,097.00
Bachelor's Degree in Library Science or Library and Information Science or Bachelor of Science in Education / Arts Major in Library Science
4 hours of relevant training
1 year of relevant experience
R.A. 1080 (Librarian)
Core Competencies: 1.Exemplifying Integrity (Intermediate)
2.Delivering Service Excellence (Intermediate)Organizational Competencies:
1.Demonstrating Personal Effectiveness (Intermediate)
2.Communicating Effectively (Intermediate)
3.Planning, Organizing and Delivering (Intermediate)
Reference Division (RD)
Interested and qualified applicants should signify their interest in writing (Application Letter) and submit/upload it  through FY 2022 NLP Recruitment Online Form at  https://bit.ly/3gQP9pS together with the following documents not  later than September 30, 2022.   
    1. Fully accomplished Personal Data Sheet (PDS) with recent passport-sized picture (CS Form No. 212, Revised 2017) and Work Experience Sheet which can be downloaded at www.csc.gov.ph;                
    2. Performance rating in the last rating period (if applicable);            
    3. Photocopy of authenticated certificate of eligibility/rating/license; and                
    4. Photocopy of Transcript of Records.                                    
                                        
Only those who have applied through the online form and met ALL the required qualification standards will be considered, Application Letter must be addressed to :
CESAR GILBERT Q. ADRIANO
Director IV
NLP Building, T.M. Kalaw Ave., Ermita

APPLICATIONS WITH INCOMPLETE DOCUMENTS SHALL NOT BE ENTER