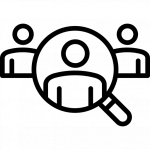 Bulletin of Vacant Positions as of February 22, 202
February 22, 2022
No.
Position Title
Plantilla Item No.
Salary/ Job/ Pay Grade
Monthly Salary
Qualification Standards
Place of Assignment
Education
Training
Experience
Eligibility
Competency (if applicable)
1
Accountant III
(Anticipated vacancy)
NL-NCCAC-A3-1-1998
19
₱49,835.00
BS Accountancy / BSC- Accounting / BS-A Accounting
8 hours of relevant training
2 years of relevant experience
RA 1080 (CPA)
Core Competencies:(Advanced and intermediate)
1. Exemplifying Integrity
2. Delivering Service ExcellenceLeadership Competencies: (Basic)
1. Thinking Strategically and Creatively
2. Leading Change
3. Building Collaborative, Inclusive Working Relationships
4. Managing Performance and Coaching for Results
5. Creating and Nurturing a High Performing Organization
Finance and Administrative Division
Interested and qualified applicants should signify their interest in writing. Attach the following documents to the application letter and send to the address below not later than March 4, 2022.
    1. Fully accomplished Personal Data Sheet (PDS) with recent passport-sized picture (CS Form No. 212, Revised 2017) which can be downloaded at www.csc.gov.ph;                
    2. Performance rating in the last rating period (if applicable);            
    3. Photocopy of certificate of eligibility/rating/license; and                
    4. Photocopy of Transcript of Records.                                    
                                        
QUALIFIED APPLICANTS are advised to hand in or send through courier/email their application to:
CESAR GILBERT Q. ADRIANO
Director IV
NLP  Building, T.M. Kalaw Ave., Ermita
hrms@nlp.gov.ph

APPLICATIONS WITH INCOMPLETE DOCUMENTS SHALL NOT BE ENTERTAINED.