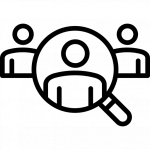 Bulletin of Vacant Positions as October 2021
October 15, 2021
1
Information Technology Officer III
NL-NCCAC-ITO3-1-2007
24
86,742
Bachelor's Degree relevant to the job with Master's Degree
40 hours of supervisory/
management learning and
development intervention
undertaken.
4 years of
supervisory /
management
experience
Career Service (Professional) /Second Level Eligibility
Core Competencies:
(Advanced)
1.Exemplifying
Integrity
2.Delivering Service
Excellence
Organizational
Competencies:
(IAdvanced)
1.Demonstrating
Personal Effectiveness
2.Communicating
Effectively
3.Planning, Organizing
and Delivering
Leadership
Competencies:
(Intermediate)
1.Thinking
Strategically and
Creatively
2.Leading Change
3.Building
Collaborative, Inclusive
Working Relationships
4.Managing
Performance and
Coaching for Results
5.Creating and
Nurturing a High
Information
Technology
Division
2
Librarian V
NL-NCCAC-LIB5-1-1998
24
86,742
Master's Degree
40 hours of supervisory/ management learning and development intervention undertaken.
4 years of supervisory / management experience
R.A. 1080 (Librarian)
Core Competencies:
(Advanced)
1.Exemplifying
Integrity
2.Delivering Service
Excellence
Organizational
Competencies:
(IAdvanced)
1.Demonstrating
Personal Effectiveness
2.Communicating
Effectively
3.Planning, Organizing
and Delivering
Leadership
Competencies:
(Intermediate)
1.Thinking
Strategically and
Creatively
2.Leading Change
3.Building
Collaborative, Inclusive
Working Relationships
4.Managing
Performance and
Coaching for Results
5.Creating and
Nurturing a High
Bilbiographic Services Division
3
Librarian V
NL-NCCAC-LIB5-6-1998
24
86,742
Master's Degree
40 hours of supervisory/ management learning and development intervention undertaken.
4 years of supervisory / management experience
R.A. 1080 (Librarian)
Core Competencies:
(Advanced)
1.Exemplifying
Integrity
2.Delivering Service
Excellence
Organizational
Competencies:
(IAdvanced)
1.Demonstrating
Personal Effectiveness
2.Communicating
Effectively
3.Planning, Organizing
and Delivering
Leadership
Competencies:
(Intermediate)
1.Thinking
Strategically and
Creatively
2.Leading Change
3.Building
Collaborative, Inclusive
Working Relationships
4.Managing
Performance and
Coaching for Results
5.Creating and
Nurturing a High
Collection Development Division
4
Librarian V
NL-NCCAC-LIB5-7-1998
24
86,742
Master's Degree
40 hours of supervisory/ management learning and development intervention undertaken.
4 years of supervisory / management experience
R.A. 1080 (Librarian)
Core Competencies:
(Advanced)
1.Exemplifying
Integrity
2.Delivering Service
Excellence
Organizational
Competencies:
(IAdvanced)
1.Demonstrating
Personal Effectiveness
2.Communicating
Effectively
3.Planning, Organizing
and Delivering
Leadership
Competencies:
(Intermediate)
1.Thinking
Strategically and
Creatively
2.Leading Change
3.Building
Collaborative, Inclusive
Working Relationships
4.Managing
Performance and
Coaching for Results
5.Creating and
Nurturing a High
Research and Publication DivisIon
5
Administrative
Aide II
(Reproduction
Machine
Operator I) * Re-publication
NL-NCCAC-ADA2-17- 2004
2
12,790
Able to read and
write
None
None
None
Core Competencies:Basic
1. Exemplying
Integrity
2. Delivering Service
Excellence
Organizational
Competencies: (Basic)
1. Demonstrating
Personal Effectiveness
2. Communicating
Effectively
3. Planning,
Collection
Development
Division
Interested and qualified applicants should signify their interest in writing (Application Letter) and submit/upload it through FY 2021 NLP Recruitment Online Form at https://bit.ly/3eZJEFf together with the following documents not later than October 12, 2021.
1. Fully accomplished Personal Data Sheet (PDS) with recent passport-sized picture (CS Form No. 212, Revised 2017) which can be downloaded at www.csc.gov.ph;
2. Performance rating in the last rating period (if applicable);
3. Photocopy of certificate of eligibility/rating/license;
4. Photocopy of Transcript of Records; and
5. Training Certificates, if any
Only those who have applied through the online form and met ALL the required qualification standards will be considered,
Application Letter must be addressed to :
CESAR GILBERT Q. ADRIANO
Director IV
NLP Building, T.M. Kalaw Ave., Ermita
APPLICATIONS WITH INCOMPLETE DOCUMENTS SHALL NOT BE ENTERTAINED.