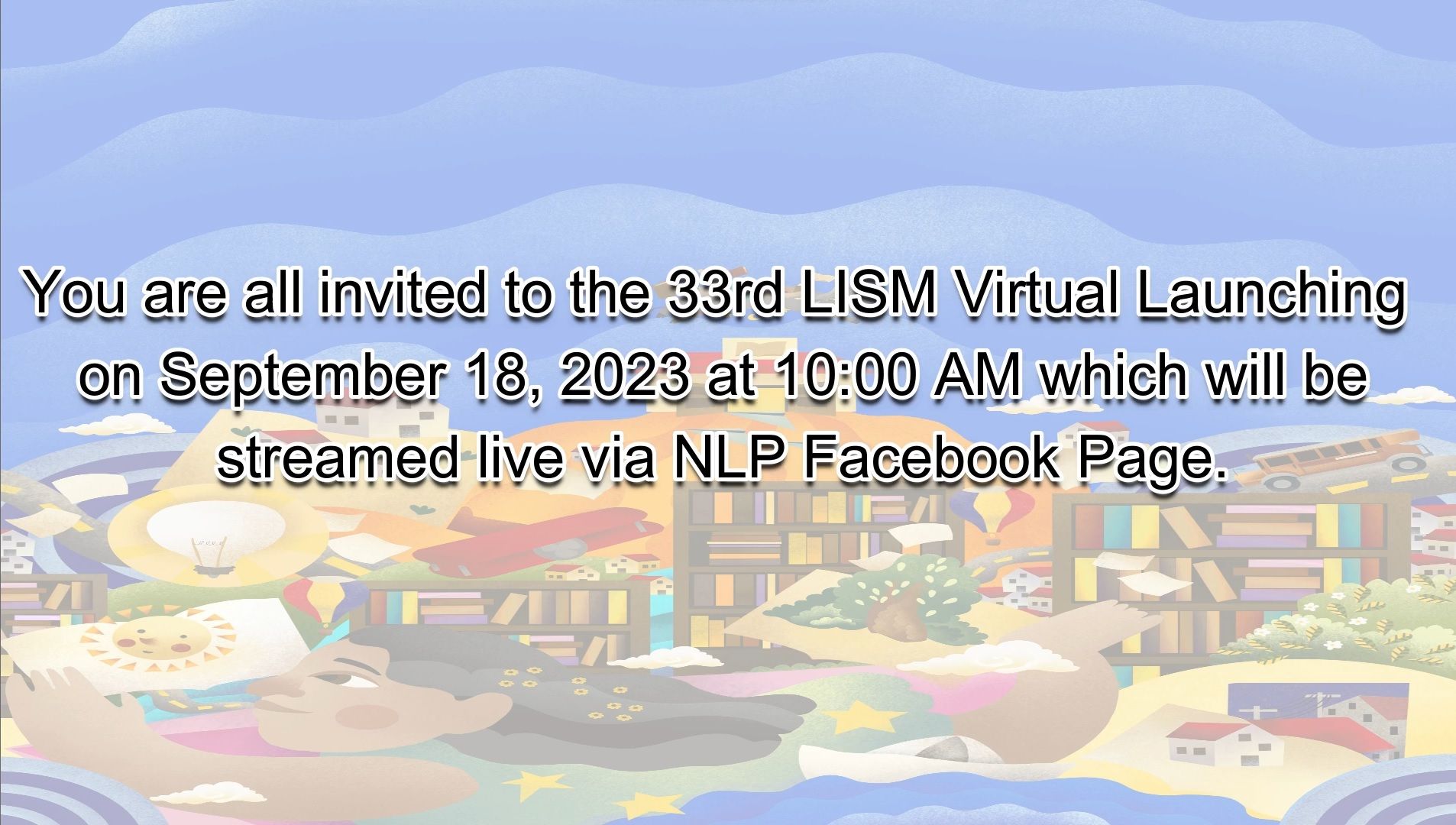 𝟯𝟯𝗿𝗱 𝗟𝗜𝗦𝗠 𝗩𝗶𝗿𝘁𝘂𝗮𝗹 𝗟𝗮𝘂𝗻𝗰𝗵𝗶𝗻𝗴 𝗮𝗻𝗱 𝗣𝗿𝗲𝘀𝘀 𝗖𝗼𝗻𝗳𝗲𝗿𝗲𝗻𝗰𝗲
September 13, 2023
The National Library of the Philippines with the National Committee on Library and Information Services – National Commission for Culture and the Arts is inviting everyone to join the Virtual Launching and Press Conference of the 33rd Library and Information Services Month (LISM) which will be held on 𝟭𝟴 𝗦𝗲𝗽𝘁𝗲𝗺𝗯𝗲𝗿 𝟮𝟬𝟮𝟯, 𝟭𝟬:𝟬𝟬 𝗔𝗠 𝘃𝗶𝗮
𝗡𝗟𝗣 𝗙𝗮𝗰𝗲𝗯𝗼𝗼𝗸

𝗣𝗮

𝗴𝗲
and will be streamed live at
NLP YouTube Account
.
The 2023 LISM theme, flagship program and calendar of activities will be presented to all the participants, including the representatives of the different libraries in the country and members of the press and social media community.
You may join us during the live streaming using the Zoom details below:
Meeting ID: 863 1454 9122
Passcode: 938933
For more information visit the LISM website at
web.nlp.gov.ph/lis
or send your inquiries at lism@nlp.gov.ph.
*******
In November 2023, the National Library of the Philippines and the National Committee on Library and Information Services of the National Commission for Culture and the Arts will spearhead the celebration of the 33rd Library and Information Services Month (LISM) through Proclamation No. 837 series of 1991, declaring the entire month of November as LIS Month.