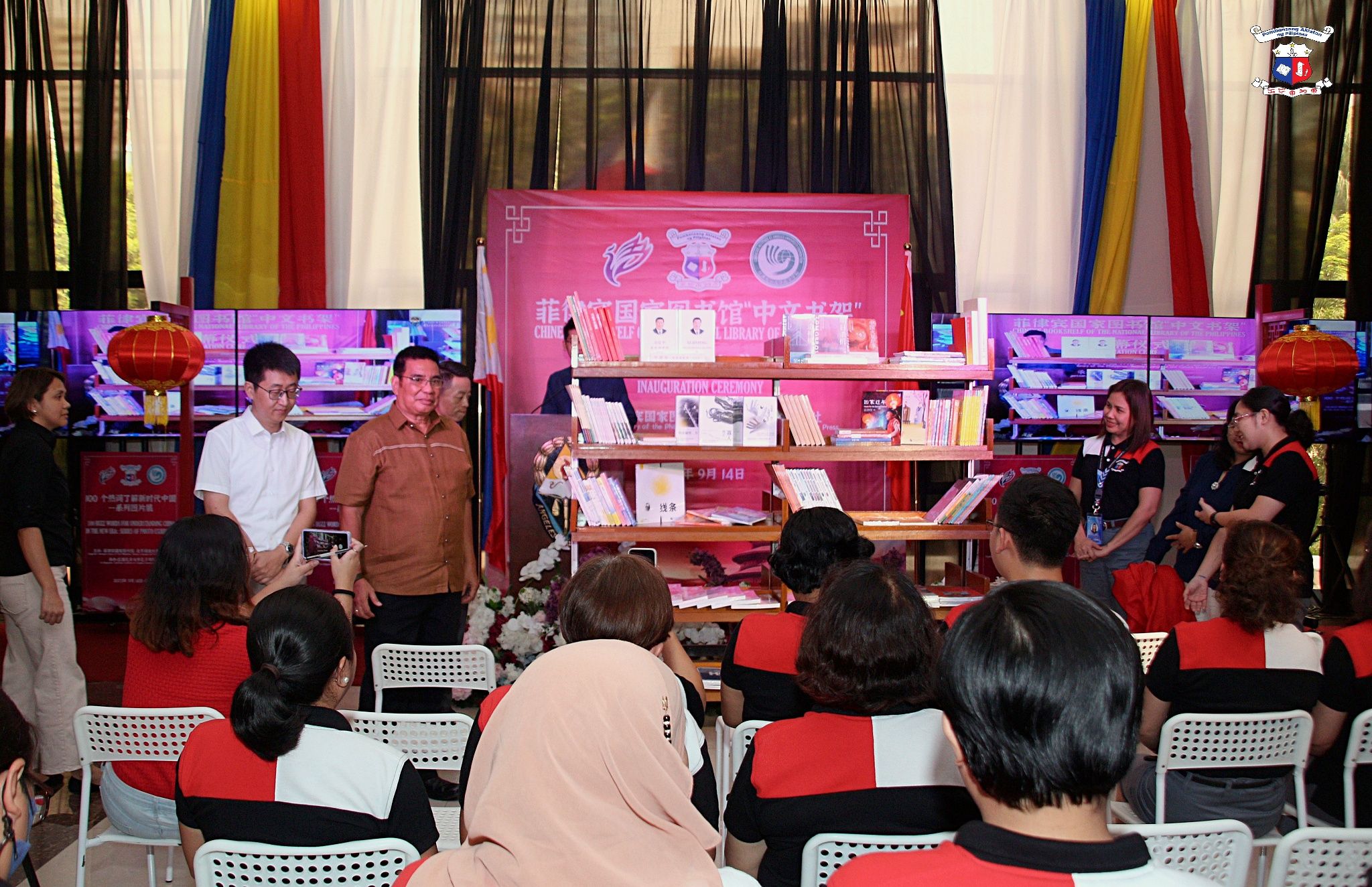 𝗧𝗨𝗥𝗡-𝗢𝗩𝗘𝗥 𝗢𝗙 𝗔𝗗𝗗𝗜𝗧𝗜𝗢𝗡𝗔𝗟 𝗟𝗜𝗕𝗥𝗔𝗥𝗬 𝗠𝗔𝗧𝗘𝗥𝗜𝗔𝗟𝗦 𝗙𝗢𝗥 𝗖𝗛𝗜𝗡𝗘𝗦𝗘 𝗕𝗢𝗢𝗞𝗦𝗛𝗘𝗟𝗙
September 15, 2023
September 14, 2023 – "A place for cultural exchange, knowledge and literature," the National Library of the Philippines (NLP) in partnership with the Confucius Institute at Angeles University Foundation hosted the turn-over ceremony of additional library materials for Chinese Bookshelf which was held at the 2nd floor lobby of NLP building.
NLP received a partial donation of Chinese books and other publications from Beijing Language and Culture University Press. The event was attended by Director of Overseas Development Department, Mr. Zhao Shuai; Vice President for Administration of Angeles University Foundation, Engr. Jose Macapagal Jr.; and the Confucius Institute Directors.
NLP Director IV Cesar Gilbert Q. Adriano delivered a recorded message extending his gratitude to the donors, and emphasized the importance of Filipino and Chinese partnership in broadening the knowledge about the two countries and fostering mutual understanding and appreciation among diverse cultures. Ms. Dolores D. Carungui, Chief of the Reference Division led the unveiling of the Chinese Bookshelf together with the heads of other divisions including– Ms. Melody M. Madrid, Chief of the Collection Development Division; Ms. Maricel M. Urena, Chief of Research and Publications Division. Ms. Jennifer B. Dimasaca, Chief of Bibliographic Services Division and other NLP Staff witnessed the ceremony.
According to Director Zhao Shuai, through this donation, Filipinos will have the opportunity to explore the depths of Chinese literature, science, art and history. This book donation is a testament to the power of books to transcend boundaries and connect people from diverse backgrounds. The program concluded with a Chinese Exhibition showcasing the Chinese arts and writings.
In 2012 China's commendable initiative was to donate a vast collection of books to the National Library to be part of the China Book Room with the objective of promoting Chinese culture and literature while strengthening partnerships and cultural exchange between nations. This year, with the 200 volumes of books, the Chinese Bookshelf is a revival and updating of the past project in partnership with the Confucius Institute. By making these books accessible to the public, NLP can serve as a hub for cross-cultural interaction.