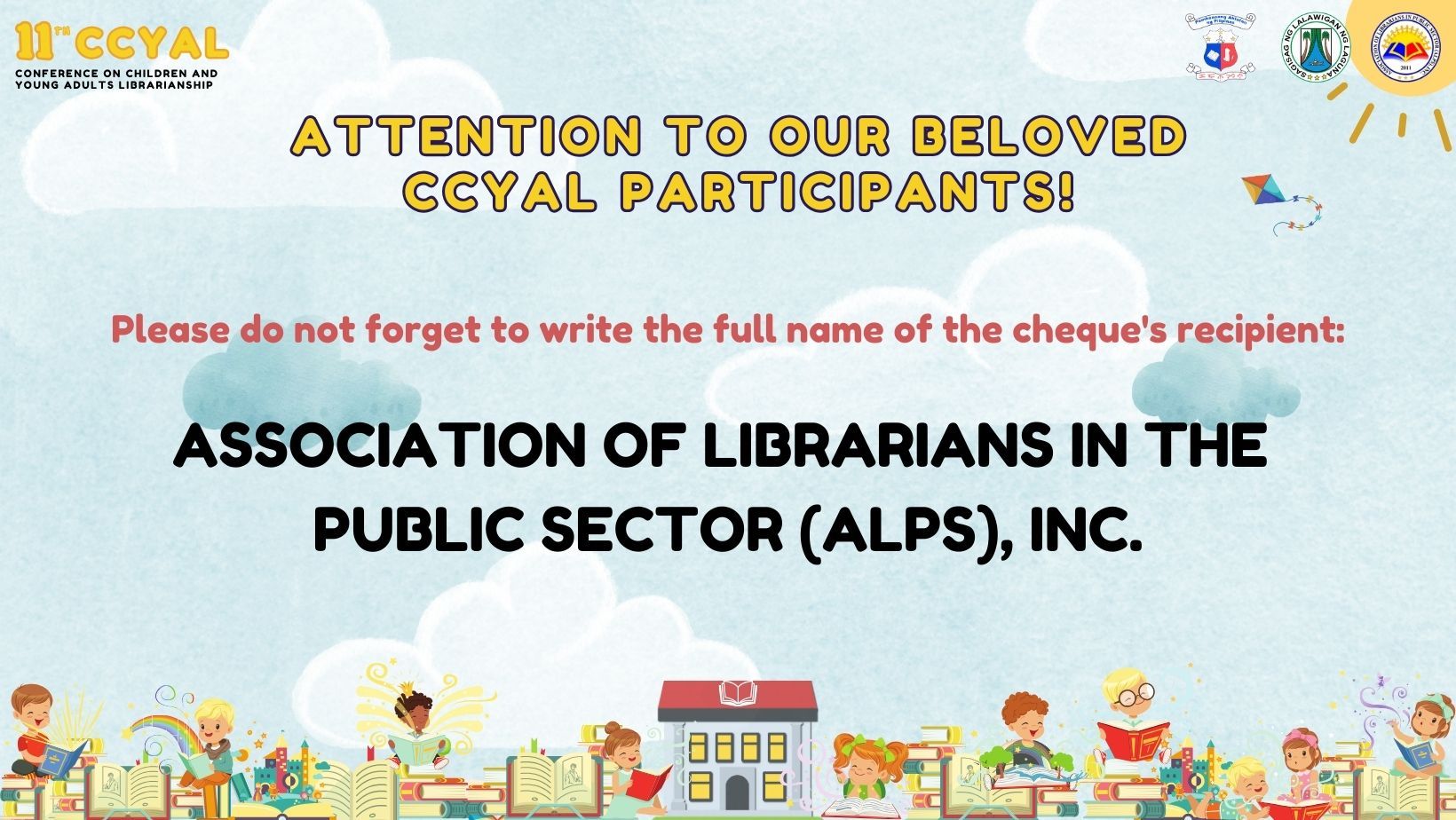 Register Now for the 11th CCYAL
September 15, 2023
We are excited to see you all!
𝗛𝗮𝘃𝗲 𝘆𝗼𝘂 𝗿𝗲𝗴𝗶𝘀𝘁𝗲𝗿𝗲𝗱 𝘁𝗼 𝗼𝘂𝗿 𝘂𝗽𝗰𝗼𝗺𝗶𝗻𝗴 𝟭𝟭𝘁𝗵 𝗖𝗵𝗶𝗹𝗱𝗿𝗲𝗻 𝗮𝗻𝗱 𝗬𝗼𝘂𝘁𝗵 𝗔𝗱𝘂𝗹𝘁 𝗟𝗶𝗯𝗿𝗮𝗿𝗶𝗮𝗻𝘀𝗵𝗶𝗽 (𝗖𝗖𝗬𝗔𝗟)? If not, you may register and pay using the different methods of payment (Gcash or cheque) to secure your registration!
Just a reminder: Please do not forget to write the complete full name of the cheque's recipient:
𝐀𝐬𝐬𝐨𝐜𝐢𝐚𝐭𝐢𝐨𝐧 𝐨𝐟 𝐋𝐢𝐛𝐫𝐚𝐫𝐢𝐚𝐧𝐬 𝐢𝐧 𝐭𝐡𝐞 𝐏𝐮𝐛𝐥𝐢𝐜 𝐒𝐞𝐜𝐭𝐨𝐫, 𝐈𝐧𝐜. (𝐀𝐋𝐏𝐒, 𝐈𝐧𝐜.)
Thank you and see you there!