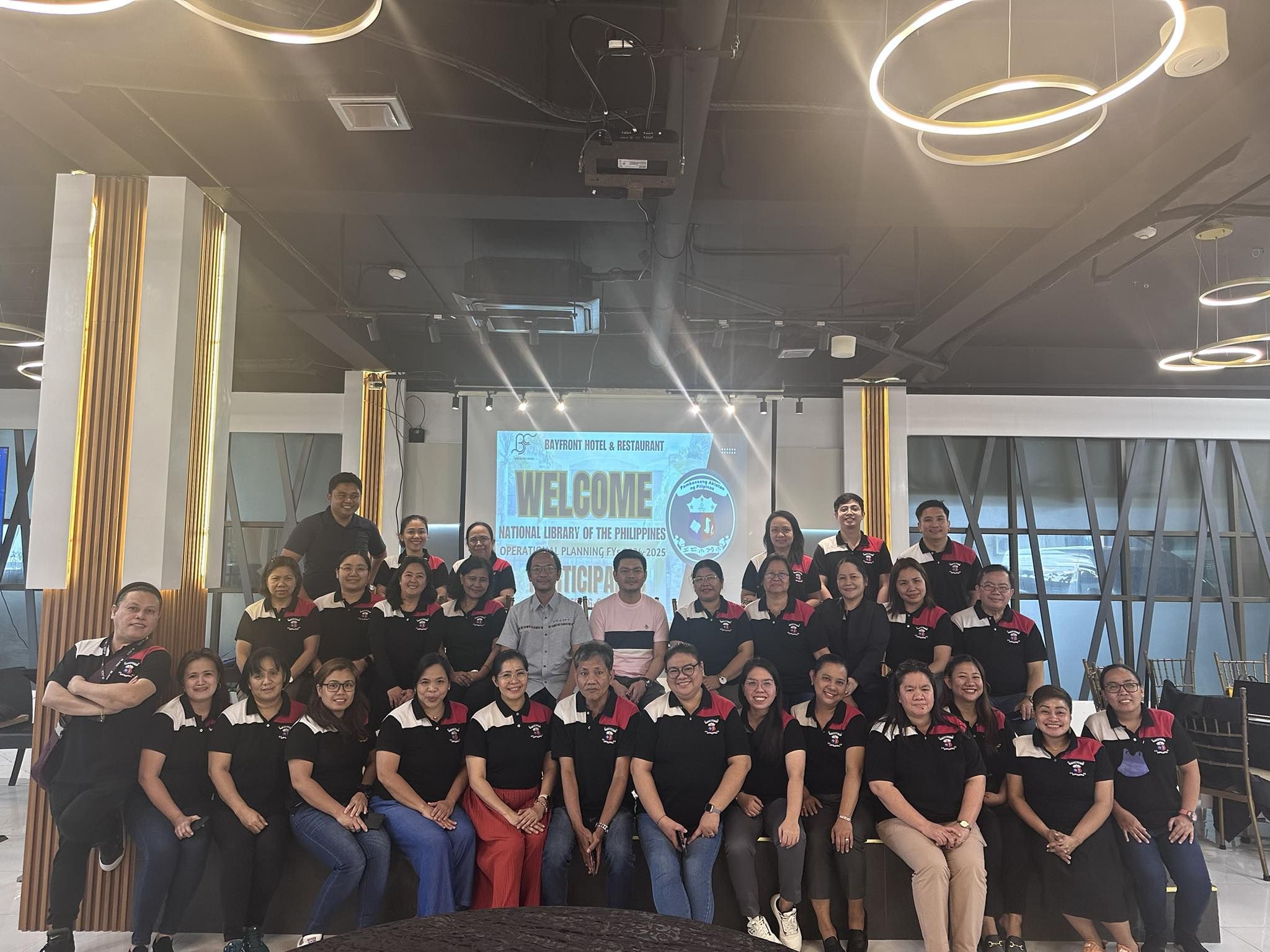 𝗡𝗟𝗣 𝗢𝗽𝗲𝗿𝗮𝘁𝗶𝗼𝗻𝗮𝗹 𝗣𝗹𝗮𝗻𝗻𝗶𝗻𝗴 𝗦𝗲𝘁 𝗖𝗼𝘂𝗿𝘀𝗲 𝗳𝗼𝗿 𝗙𝗬 𝟮𝟬𝟮𝟰-𝟮𝟬𝟮𝟱
September 9, 2023
Subic, Zambales– The
#NationalLibraryPH
conducted its 𝗢𝗽𝗲𝗿𝗮𝘁𝗶𝗼𝗻𝗮𝗹 𝗣𝗹𝗮𝗻𝗻𝗶𝗻𝗴 𝗳𝗼𝗿 𝗙𝗬 𝟮𝟬𝟮𝟰-𝟮𝟬𝟮𝟱 from September 6-8, 2023. The event conducted extensive deliberations, strategy sessions, and visionary directives participated by the top and middle management headed by NLP 𝗗𝗶𝗿𝗲𝗰𝘁𝗼𝗿 𝗖𝗲𝘀𝗮𝗿 𝗚𝗶𝗹𝗯𝗲𝗿𝘁 𝗤. 𝗔𝗱𝗿𝗶𝗮𝗻𝗼 and 𝗔𝘀𝘀𝘁. 𝗗𝗶𝗿𝗲𝗰𝘁𝗼𝗿 𝗘𝗱𝗴𝗮𝗿𝗱𝗼 𝗕. 𝗤𝘂𝗶𝗿𝗼𝘀. This Operational Planning saw the agency gearing up for the challenges and opportunities of the coming fiscal year and serve as a launchpad for the library's next fiscal year's endeavors.
Over the next three days, through the facilitation of the Planning, Monitoring and Evaluation Committee (PMEC) led by its Chairperson 𝗠𝘀. 𝗝𝗲𝗻𝗻𝗶𝗳𝗲𝗿 𝗕. 𝗗𝗶𝗺𝗮𝘀𝗮𝗰𝗮, delegates engaged in intense discussions and breakout sessions to plan for the programs and activities to be implemented in 2024. They meticulously reviewed data, financial projections, and past performance. And with unwavering conviction, Director Adriano identified the 6 thrusts of NLP for 2024-2025, such as: 𝘾𝙤𝙣𝙨𝙚𝙧𝙫𝙖𝙩𝙞𝙤𝙣 𝙖𝙣𝙙 𝙋𝙧𝙚𝙨𝙚𝙧𝙫𝙖𝙩𝙞𝙤𝙣 𝙥𝙧𝙤𝙜𝙧𝙖𝙢, 𝙧𝙚𝙤𝙧𝙜𝙖𝙣𝙞𝙯𝙖𝙩𝙞𝙤𝙣 𝙥𝙡𝙖𝙣, 𝙄𝘾𝙏 𝙚𝙣𝙝𝙖𝙣𝙘𝙚𝙢𝙚𝙣𝙩, 𝙘𝙤𝙣𝙩𝙞𝙣𝙪𝙤𝙪𝙨 𝙞𝙢𝙥𝙧𝙤𝙫𝙚𝙢𝙚𝙣𝙩 𝙤𝙛 𝙗𝙪𝙞𝙡𝙙𝙞𝙣𝙜 𝙖𝙣𝙙 𝙡𝙞𝙗𝙧𝙖𝙧𝙮 𝙨𝙥𝙖𝙘𝙚𝙨, 𝙘𝙤𝙢𝙥𝙡𝙞𝙖𝙣𝙘𝙚 𝙩𝙤 𝙧𝙚𝙜𝙪𝙡𝙖𝙩𝙤𝙧𝙮 𝙖𝙣𝙙 𝙨𝙩𝙖𝙩𝙪𝙩𝙤𝙧𝙮 𝙧𝙚𝙦𝙪𝙞𝙧𝙚𝙢𝙚𝙣𝙩𝙨 𝙖𝙣𝙙 𝙥𝙧𝙤𝙢𝙤𝙩𝙞𝙤𝙣 𝙤𝙛 𝙉𝙇𝙋 𝙨𝙚𝙧𝙫𝙞𝙘𝙚𝙨.
As the event concluded yesterday, 8 September 2023, NLP charted a sustainable path that would not only secure necessary funding but also ensure that NLP will fully realize its mandate as a cultural agency and a national library serving the evolving needs of the community.