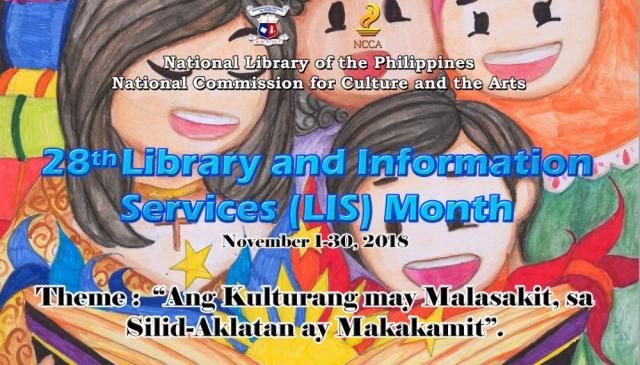 28th LIS Month
November 10, 2018
Pursuant to Proclamation No. 837 s. 1991, the Library and Information Services (LIS) Month which is commemorated during the month of November of every year, in recognition of the need to focus public awareness to the invaluable service that libraries and information centers render.
The National Library of the Philippines (NLP) and the National Commission for Culture and the Arts-National Committee on Libraries and Information Services (NCCA-NCLIS ) will lead the celebration with the theme "Ang Kulturang may Malasakit, sa Silid-Aklatan ay Makakamit".
To promote public awareness in the observance of this event, all are encouraged to undertake related activities, such as:
Posting of the 28th LIS Month poster in all National Government Agencies (NGAs), Public Libraries, Public/Private Elementary and High Schools, State Universities and Colleges (SUCs) nationwide;
Development, production and distribution of information, education, and communication materials for 28th LIS Month;
Uploading of the 28th LIS Month advocacy materials in LGUs / Library websites and social media accounts; (see more)
Participation in the online campaign thread about the observance by uploading photos, news features and other information relative to the 28th LIS Month using the hashtag: #28thLISMonth;
Announcement of LIS Month celebration in the Flag Raising Ceremony of Government Offices on October 29, 2018;
Featuring the libraries calendar of activities, activity implementation reports and the 28th LIS Month advocacy materials in your official websites, social media accounts and publications, and send us a link of the reports through e-mail address at LIS Committee <liscommittee2018@gmail.com>; (see more) and,
Organizing and participating in LIS-related activities such as lecture demonstrations, conferences, fora, and exhibits.