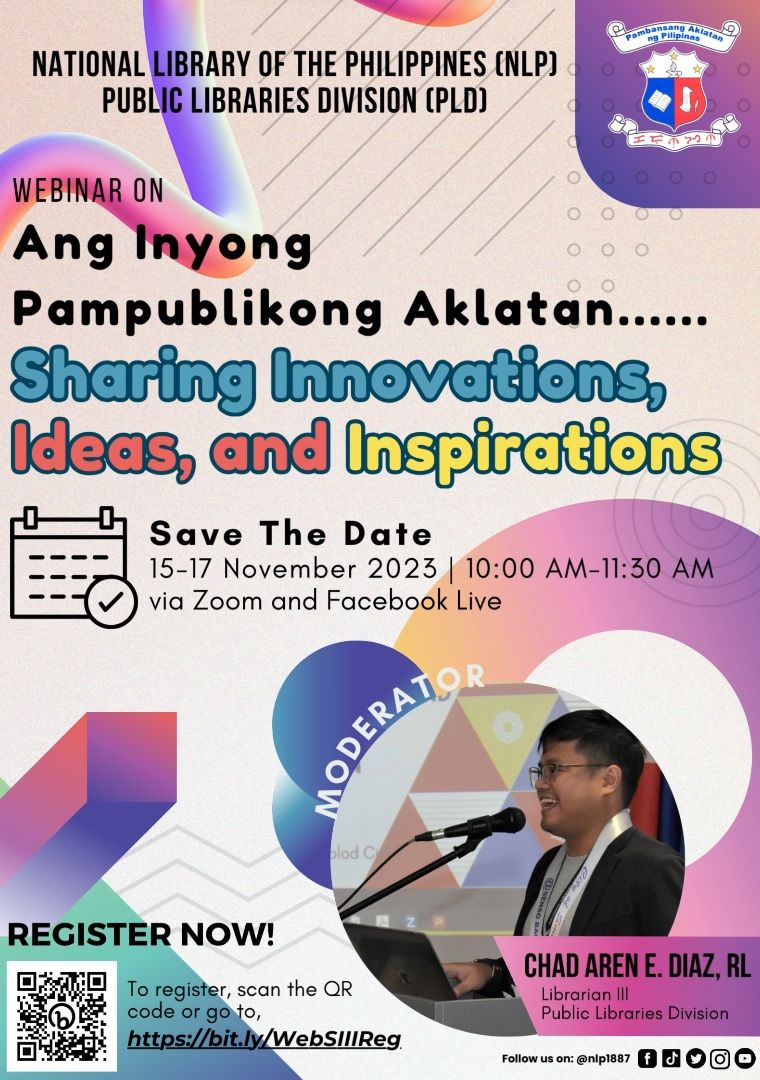 Invitation for Free Webinar
October 2, 2023
The National Library of the Philippines , through the Public Libraries Division, will conduct of a series of webinars via Zoom and FB Live this 15-17 November 2023 from 10:00 AM – 11:30 AM to promote and advocate the different Plans, Programs, and Activities (PPAs) of public libraries geared towards providing equitable public library service to their community.
For these learning sessions, our invited resource speakers are our 2023 Gawad Pampublikong Aklatan (GPA) Winners under the following categories of 𝟭) 𝗕𝗲𝘀𝘁 𝗣𝗣𝗔 𝗳𝗼𝗿 𝗟𝗼𝗰𝗮𝗹 𝗖𝘂𝗹𝘁𝘂𝗿𝗲 𝗮𝗻𝗱 𝗛𝗶𝘀𝘁𝗼𝗿𝗶𝗰𝗮𝗹 𝗣𝗿𝗲𝘀𝗲𝗿𝘃𝗮𝘁𝗶𝗼𝗻 𝗮𝗻𝗱 𝗖𝗼𝗻𝘀𝗲𝗿𝘃𝗮𝘁𝗶𝗼𝗻, 𝟮) 𝗕𝗲𝘀𝘁 𝗣𝗣𝗔 𝗳𝗼𝗿 𝗜𝗻𝗱𝗶𝗴𝗲𝗻𝗼𝘂𝘀 𝗚𝗿𝗼𝘂𝗽, 𝗮𝗻𝗱 𝟯) 𝗕𝗲𝘀𝘁 𝗣𝗣𝗔 𝗳𝗼𝗿 𝗣𝗲𝗿𝘀𝗼𝗻𝘀 𝗗𝗲𝗽𝗿𝗶𝘃𝗲𝗱 𝗼𝗳 𝗟𝗶𝗯𝗲𝗿𝘁𝘆 (𝗣𝗗𝗟𝘀).
Get to know more about their activities and learn from their programs for these sectors. To register, scan the QR code in the poster or visit https://bit.ly/WebSIIIReg.
Thanks and see you!
𝗣𝗦: 𝗔𝗽𝗽𝗹𝗶𝗰𝗮𝘁𝗶𝗼𝗻 𝗳𝗼𝗿 𝗖𝗣𝗗 𝗣𝗼𝗶𝗻𝘁𝘀 𝗼𝗻-𝗴𝗼𝗶𝗻𝗴.