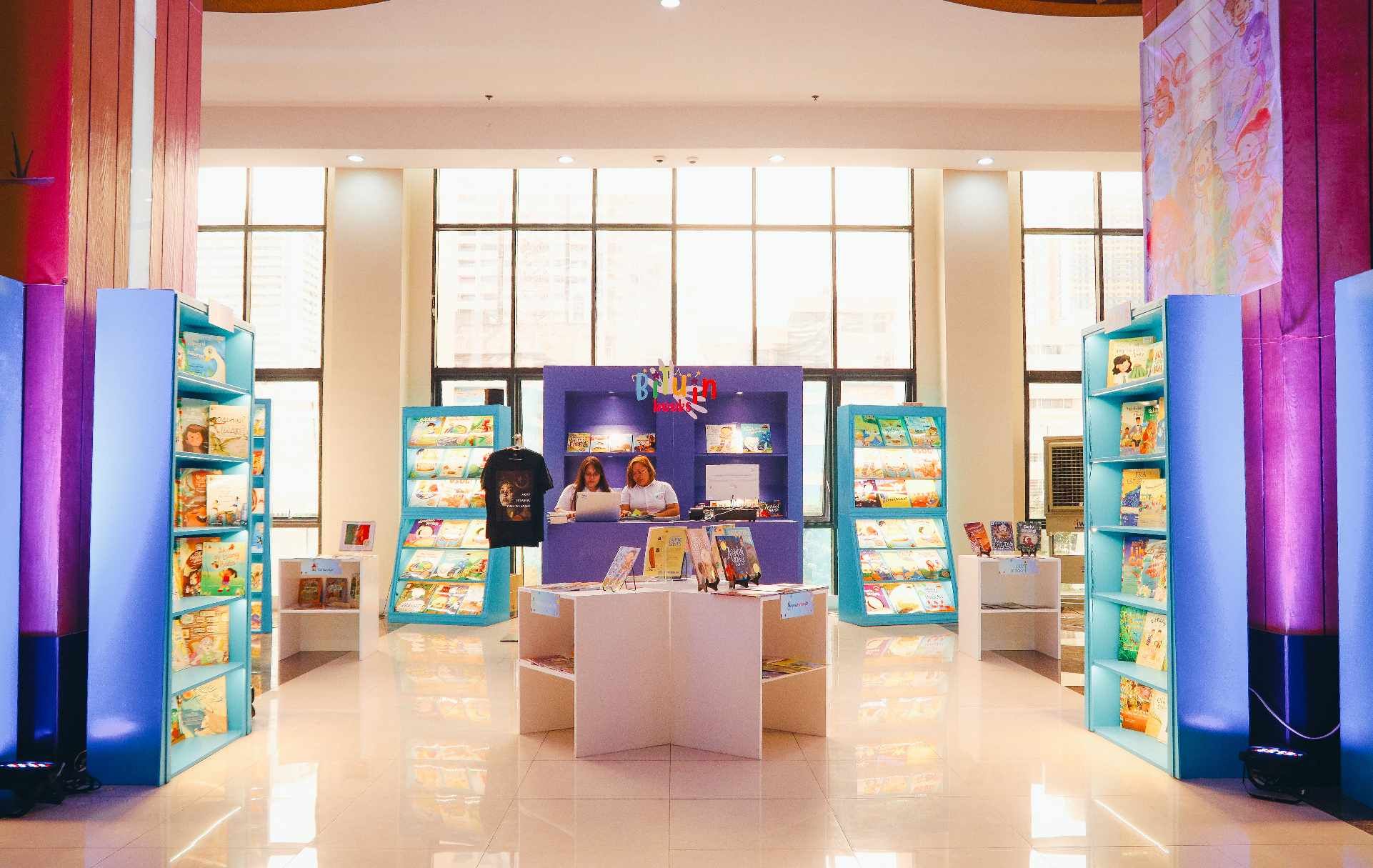 1st Asian Festival of Children's Content (AFCC) Philippines
November 15, 2023
𝗔𝗙𝗖𝗖 𝗖𝗶𝗿𝗰𝗹𝗲 𝗣𝗵𝗶𝗹𝗶𝗽𝗽𝗶𝗻𝗲𝘀 inaugural conference is currently happening at
#NationalLibraryPH
organized by Vibal Foundation in partnership with the National Library of the Philippines, the National Book Development Board, Singapore Book Council, International Board on Books for Young People-Philippines (IBBY-PH), the Filipinas Heritage Library, and the partner consignors: Adarna House, Inc., OMF Literature, Inc., The Center for Art, New Ventures & Sustainable Development (CANVAS), Lampara Publishing House, Inc., Anvil Publishing, Inc., Kahel Press and Johnny and Hansel Publications.
As the 1st Asian Festival of Children's Content (AFCC) in the Philippines, this Circle aims to raise awareness and extend AFCC's goal of promoting and developing Asian stories. Esteemed speakers from the education sector, publishing industry and libraries gave informative presentations to educators, reading teachers, and librarians to explore the first Philippine conference with the theme, "READ!"
Present in the conference are the heads of the different institutions and agencies including– 𝗘𝘅𝗲𝗰𝘂𝘁𝗶𝘃𝗲 𝗗𝗶𝗿𝗲𝗰𝘁𝗼𝗿 𝗪𝗶𝗹𝗹𝗶𝗮𝗺 𝗣𝗵𝘂𝗮𝗻 𝗼𝗳 𝗦𝗶𝗻𝗴𝗮𝗽𝗼𝗿𝗲 𝗕𝗼𝗼𝗸 𝗖𝗼𝘂𝗻𝗰𝗶𝗹; 𝗖𝗵𝗶𝗲𝗳 𝗘𝘅𝗲𝗰𝘂𝘁𝗶𝘃𝗲 𝗢𝗳𝗳𝗶𝗰𝗲𝗿 𝗼𝗳 𝗩𝗶𝗯𝗮𝗹 𝗚𝗿𝗼𝘂𝗽 𝗮𝗻𝗱 𝗙𝗼𝘂𝗻𝗱𝗮𝘁𝗶𝗼𝗻 𝗣𝗿𝗲𝘀𝗶𝗱𝗲𝗻𝘁, 𝗜𝗕𝗕𝗬-𝗣𝗵𝗶𝗹𝗶𝗽𝗽𝗶𝗻𝗲𝘀 𝗞𝗿𝗶𝘀𝘁𝗶𝗻𝗲 𝗠𝗮𝗻𝗱𝗶𝗴𝗺𝗮; and 𝗘𝘅𝗲𝗰𝘂𝘁𝗶𝘃𝗲 𝗗𝗶𝗿𝗲𝗰𝘁𝗼𝗿 𝗖𝗵𝗮𝗿𝗶𝘀𝘀𝗲 𝗔𝗾𝘂𝗶𝗻𝗼-𝗧𝘂𝗴𝗮𝗱𝗲 𝗼𝗳 𝘁𝗵𝗲 𝗡𝗮𝘁𝗶𝗼𝗻𝗮𝗹 𝗕𝗼𝗼𝗸 𝗗𝗲𝘃𝗲𝗹𝗼𝗽𝗺𝗲𝗻𝘁 𝗕𝗼𝗮𝗿𝗱. 𝗥𝗲𝗽𝗿𝗲𝘀𝗲𝗻𝘁𝗶𝗻𝗴 𝗡𝗟𝗣 𝗗𝗶𝗿𝗲𝗰𝘁𝗼𝗿 𝗖𝗲𝘀𝗮𝗿 𝗚𝗶𝗹𝗯𝗲𝗿𝘁 𝗤. 𝗔𝗱𝗿𝗶𝗮𝗻𝗼 𝗶𝘀 𝘁𝗵𝗲 𝘾𝙝𝙞𝙚𝙛 𝙤𝙛 𝙩𝙝𝙚 𝙍𝙚𝙛𝙚𝙧𝙚𝙣𝙘𝙚 𝘿𝙞𝙫𝙞𝙨𝙞𝙤𝙣, 𝘿𝙤𝙡𝙤𝙧𝙚𝙨 𝘿. 𝘾𝙖𝙧𝙪𝙣𝙜𝙪𝙞, who delivered a welcome message and presented the flagship programs of NLP in promoting reading and increasing literacy among marginalized children.
𝗠𝘀. 𝗔𝘆𝗲𝘁𝘁𝗲 𝗙𝗲𝗿𝗿𝗶𝗼𝗹𝘀 𝗼𝗳 𝘁𝗵𝗲 𝗕𝘂𝗿𝗲𝗮𝘂 𝗼𝗳 𝗖𝘂𝗿𝗿𝗶𝗰𝘂𝗹𝘂𝗺 𝗗𝗲𝘃𝗲𝗹𝗼𝗽𝗺𝗲𝗻𝘁 𝗼𝗳 𝘁𝗵𝗲 𝗗𝗲𝗽𝗮𝗿𝘁𝗺𝗲𝗻𝘁 𝗼𝗳 𝗘𝗱𝘂𝗰𝗮𝘁𝗶𝗼𝗻served as the Keynote Speaker who presented an in-depth overview of the Matatag Curriculum and the National Reading Program (NRP) of DepEd.
Speakers and attendees were able to share their experiences and raised their concerns regarding the literacy and reading programs of their institution and were more elaborated during the Panel Session titled, Fostering a Reading Culture which aims to explore strategies and initiatives to encourage and enhance the habit of reading. Panelists include 𝗗𝗿. 𝗥𝗼𝘀𝗮𝗹𝘆𝗻 𝗠𝗶𝗿𝗮𝘀𝗼𝗹 𝗼𝗳 𝘁𝗵𝗲 𝗥𝗲𝗮𝗱𝗶𝗻𝗴 𝗔𝘀𝘀𝗼𝗰𝗶𝗮𝘁𝗶𝗼𝗻 𝗼𝗳 𝘁𝗵𝗲 𝗣𝗵𝗶𝗹𝗶𝗽𝗽𝗶𝗻𝗲𝘀, 𝗗𝗿. 𝗗𝗼𝗹𝗼𝗿𝗲𝘀 𝗖𝗮𝗿𝘂𝗻𝗴𝘂𝗶 𝗼𝗳 𝗡𝗟𝗣 𝗮𝗻𝗱 𝗠𝘀. 𝗔𝘆𝗲𝘁𝘁𝗲 𝗙𝗲𝗿𝗿𝗶𝗼𝗹𝘀 𝗼𝗳 𝗗𝗲𝗽𝗘𝗱.
Several activities were prepared such as lectures, workshops and museum tours during the three-day conference at NLP which will run from November 15-16 and will end on November 17 with a tour at the Filipinas Heritage Library and the Ayala Museum.
A timely activity in celebration of the 33rd Library and Information Services Month, this conference will greatly increase the public's appreciation and value the role of books and libraries in the cognitive development of our children.