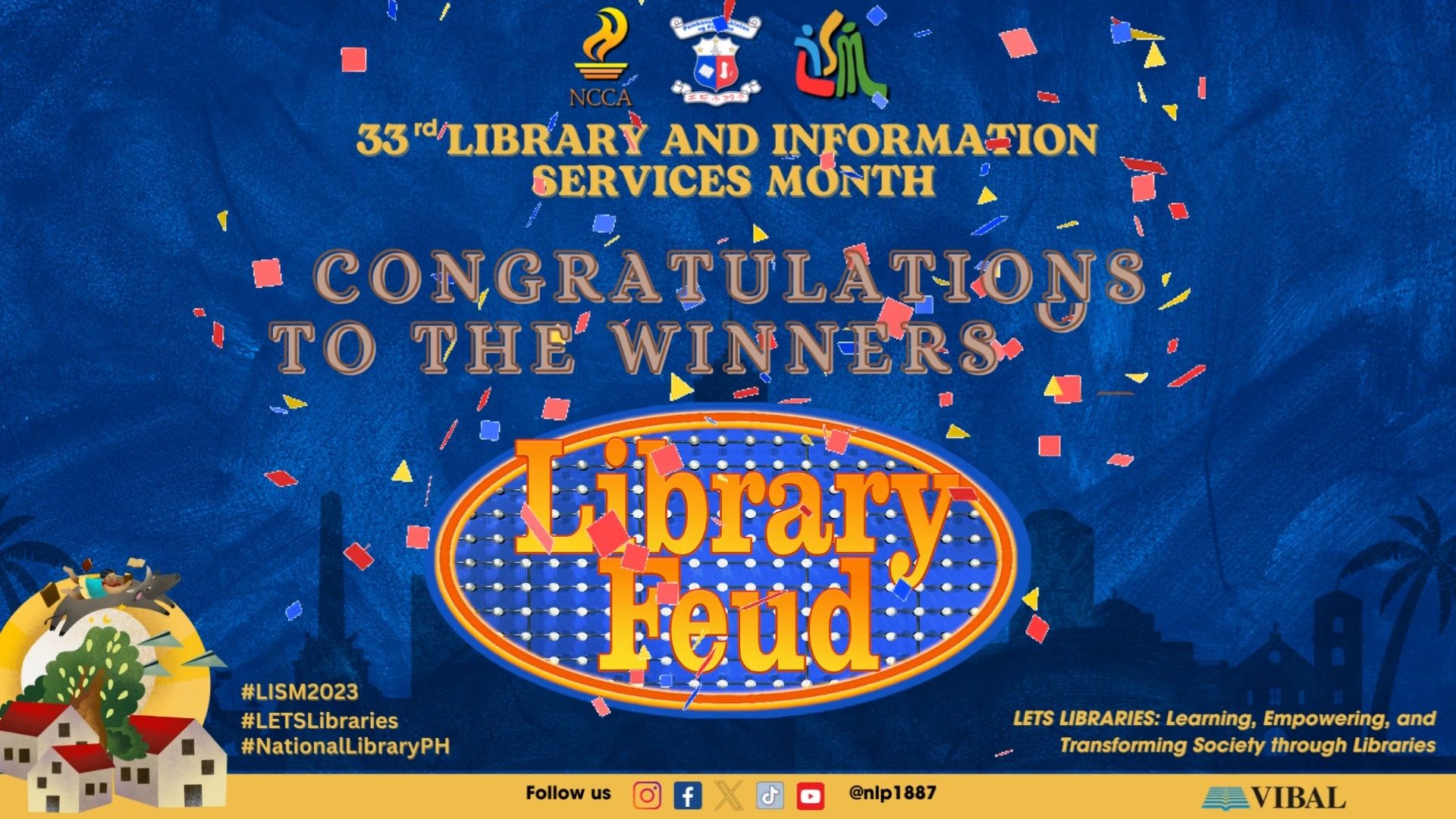 🎉𝙇𝙞𝙗𝙧𝙖𝙧𝙮 𝙁𝙚𝙪𝙙 𝙒𝙞𝙣𝙣𝙚𝙧𝙨🏅
November 8, 2023
Congratulations to all the winners of the 🅻🅸🅱🆁🅰🆁🆈 🅵🅴🆄🅳, a fun game show for librarians/library staff and BLIS students, which was held last 6 November 2023 at the Epifanio delos Santos Auditorium, NLP as part of the the 33rd Library and Information Services Month celebration.
Librarians from the selected government agencies were hailed as the winners for the Professionals Category who competed against the Librarians of the selected Public Libraries.
On the other hand, BLIS students form the Polytechnic University of the Philippines take the first place spot after a very close competition with the students of the Philippine Normal University.
🎉𝗖𝗼𝗻𝗴𝗿𝗮𝘁𝘂𝗹𝗮𝘁𝗶𝗼𝗻𝘀!🎉
𝗟𝗶𝗯𝗿𝗮𝗿𝘆 𝗣𝗿𝗼𝗳𝗲𝘀𝘀𝗶𝗼𝗻𝗮𝗹𝘀 𝗖𝗮𝘁𝗲𝗴𝗼𝗿𝘆
🏅Winners: Team Government Agencies
MARJON B. MONTOYA, Technological University of the Philippines – Manila
ARMAN P. OPLE, Komisyon sa Wikang Filipino
ACE O. GARCIA, Komisyon sa Wikang Filipino
JERICK L. UYAMI, Technological University of the Philippines – Manila
Consolation Prize: Team Public Libraries
MARINEL PIÑON, Parañaque City Public Library
MARIA VICTORIA C. SORIANO, Makati City Library
HEHERSON C. CRUZ, Baliwag City Library
MARIONE RENZ J. TORRES, Gapan City College
𝗕𝗟𝗜𝗦 𝗦𝘁𝘂𝗱𝗲𝗻𝘁𝘀 𝗖𝗮𝘁𝗲𝗴𝗼𝗿𝘆
🏅Winners: Team PUP
MARIAN KRISTINE ANGELI E. CARIASO
SARAH NICOLE B. CELADENIA
ALLYANNA B. GREFALDEO
MIKAELA D. SANCHEZ
Consolation Prize: Team PNU
JENNY ROSE ROBEDILLO
DARREN L. BARJA
JOSE IÑIGO TABOBO
CHRISTIAN NOE BONGALBAL