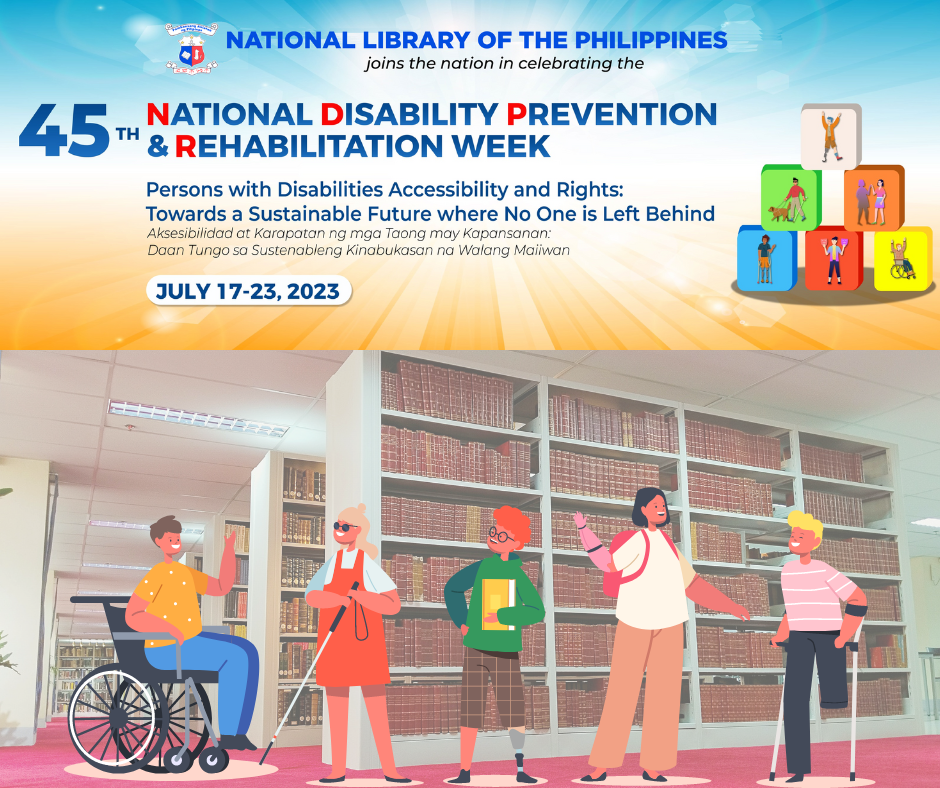 𝗡𝗔𝗧𝗜𝗢𝗡𝗔𝗟 𝗗𝗜𝗦𝗔𝗕𝗜𝗟𝗜𝗧𝗬 𝗣𝗥𝗘𝗩𝗘𝗡𝗧𝗜𝗢𝗡 𝗔𝗡𝗗 𝗥𝗘𝗛𝗔𝗕𝗜𝗟𝗜𝗧𝗔𝗧𝗜𝗢𝗡 𝗪𝗘𝗘𝗞 @ 𝗡𝗟𝗣!
July 17, 2023
In observance of the National Disability Prevention and Rehabilitation (NDPR) Week, which runs from July 17–23, 2023, the
#NationalLibraryPH
will participate in this national celebration.
Basic training in "𝙃𝙖𝙣𝙙𝙡𝙞𝙣𝙜 𝙋𝙒𝘿 𝙘𝙡𝙞𝙚𝙣𝙩𝙨 𝙞𝙣 𝙉𝙇𝙋" will be conducted for the staff, and 𝙖 𝙜𝙪𝙞𝙙𝙚𝙙 𝙡𝙞𝙗𝙧𝙖𝙧𝙮 𝙩𝙤𝙪𝙧 for people with disabilities will also be organized.
You are welcome to visit the NLP this week and take part in the celebration!