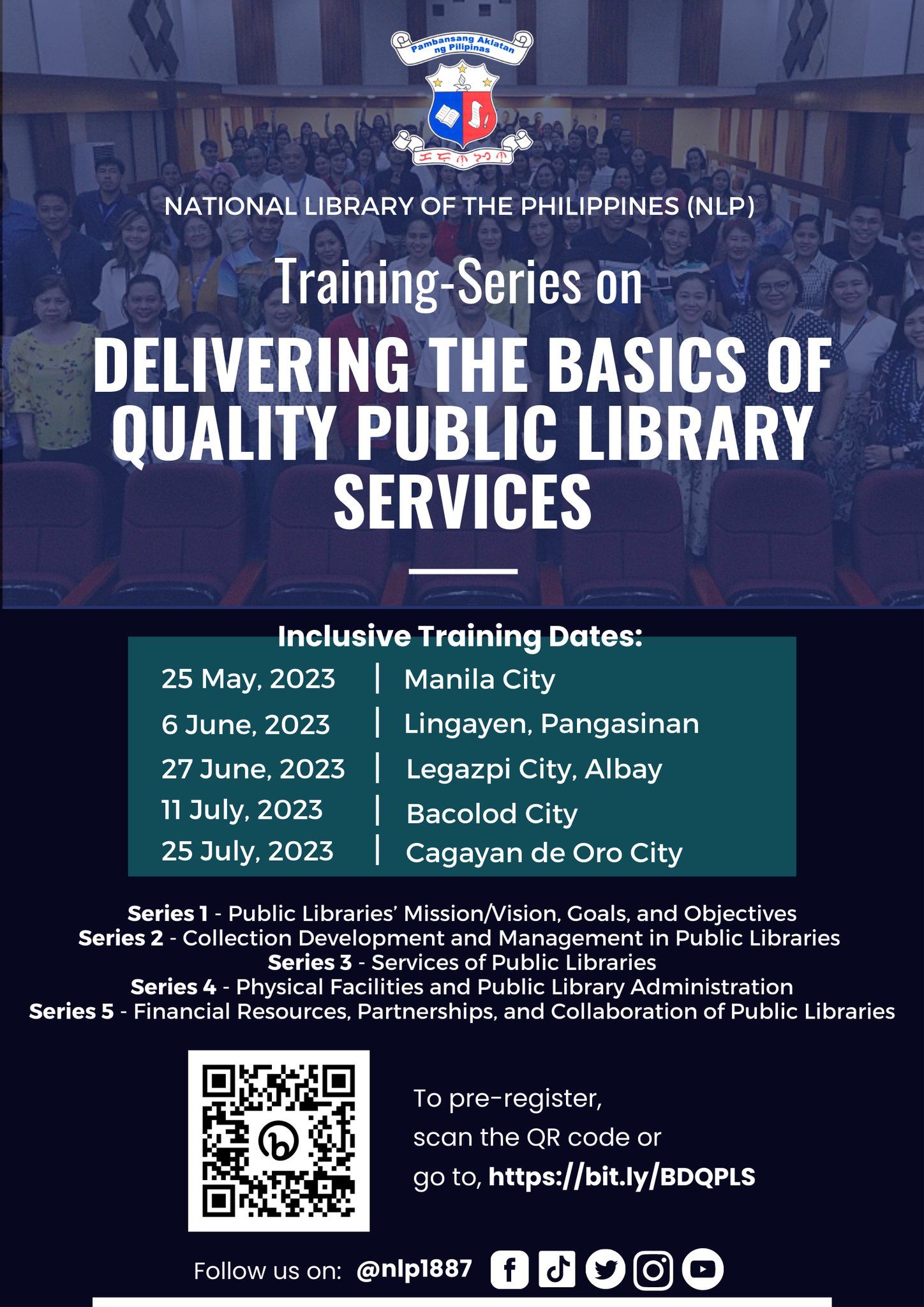 Attention: All Affiliated Public Libraries of the National Library of the Philippines
May 11, 2023
The NLP, through the Public Libraries Division, will be conducting a program entitled Training-Series on Delivering the Basics of Quality Public Library Service from May 2023 to July 2023.
This training-series is designed for all affiliated public libraries of NLP to strengthen and recalibrate how a public library offers its products and services to the community. It will be conducted in five (5) series, covering the five (5) key topics / subject areas. Kindly refer to the table below for the schedule dates, key topic/area, and venue of the training-series:
Series 1
Public Libraries' Mission/Vision, Goals, and Objectives
May 25, 2023
NLP, Manila
Series 2
Collection Development and Management in Public Libraries
June 6, 2023
Lingayen, Pangasinan
Series 3
Services of Public Libraries
June 27, 2023
Legazpi City, Albay
Series 4
Physical Facilities and Public Library Administration
July 11, 2023
Bacolod City
Series 5
Financial Resources, Partnerships, and Collaboration of Public Libraries
July 25, 2023
Cagayan de Oro City
You may check your nominated and/or submitted email address to PLD to view the full invitation letter, Tentative Schedule of Activities, Program Poster, and Logistical Note (Participants' Guides and Reminders).
This training will not entail any registration fee from interested participants. Kindly RSVP no later than May 19, 2023 via
https://bit.ly/BDQPLS
or by scanning the QR code in the poster below to reserve your slot.
For inquiries and other concerns, you may reach us through our contact nos. (02) 5310-5035 local 204/205 and 09178718216 or email us at
nlpwebinar@nlp.gov.ph
.
Thank you very much and we look forward to your participation in this event.