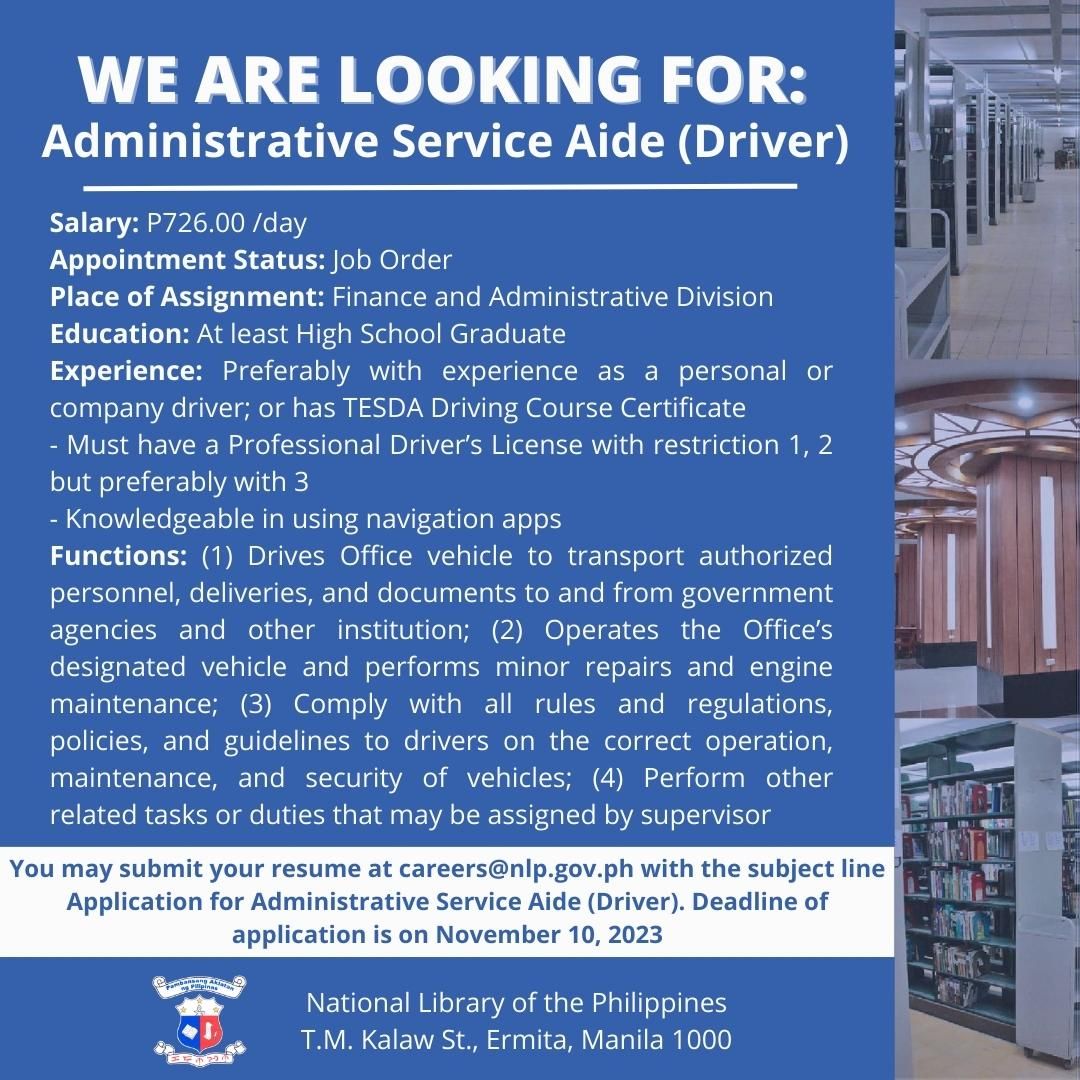 𝐍𝐋𝐏 𝐢𝐬 𝐇𝐈𝐑𝐈𝐍𝐆: 𝗔𝗱𝗺𝗶𝗻𝗶𝘀𝘁𝗿𝗮𝘁𝗶𝘃𝗲 𝗦𝗲𝗿𝘃𝗶𝗰𝗲 𝗔𝗶𝗱𝗲 (𝗗𝗿𝗶𝘃𝗲𝗿)
October 27, 2023
‼ 𝐍𝐋𝐏 𝐢𝐬 𝐇𝐈𝐑𝐈𝐍𝐆 ‼
Submit your applications now!
The National Library of the Philippines (NLP) is in need of the positions listed below:
Position Title: 𝗔𝗱𝗺𝗶𝗻𝗶𝘀𝘁𝗿𝗮𝘁𝗶𝘃𝗲 𝗦𝗲𝗿𝘃𝗶𝗰𝗲 𝗔𝗶𝗱𝗲 (𝗗𝗿𝗶𝘃𝗲𝗿)
Salary: P726.00 /day
Appointment Status: Job Order
Place of Assignment: Finance and Administrative Division
Education: At least High School Graduate
Experience: Preferably with experience as a personal or company driver; or has TESDA Driving
Course Certificate
– Must have a Professional Driver's License with restriction 1, 2 but preferably with 3
– Knowledgeable in using navigation apps
Functions:
1. Drives Office vehicle to transport authorized personnel, deliveries, and documents to and from
government agencies and other institution;
2. Operates the Office's designated vehicle and performs minor repairs and engine maintenance;
3. Comply with all rules and regulations, policies, and guidelines to drivers on the correct operation,
maintenance, and security of vehicles;
4. Perform other related tasks or duties that may be assigned by supervisor
You may submit your resume at careers@nlp.gov.ph with the subject line Application for Administrative Service Aide (Driver). Deadline of application is on November 10, 2023.